Updating templates and metadata
It may well happen that you wish to update the metadata associated with a document or the very document template once it has already been uploaded to the Docxpresso interface.
Both actions are of course possible and we pass to briefly explain how to carry them out.
Editing metadata
From the main template page one can access to the metadata edition interface by clicking on the Edit data button available in the template info box of the main template interface.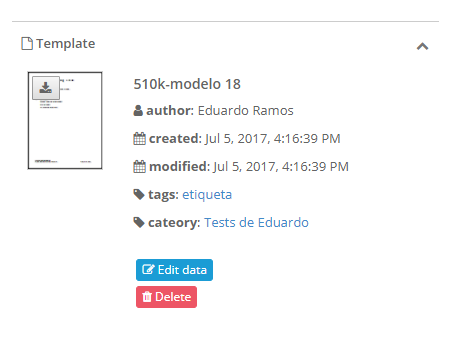 You will be able to change all data: name, category, tags, etcetera, but the document template itself: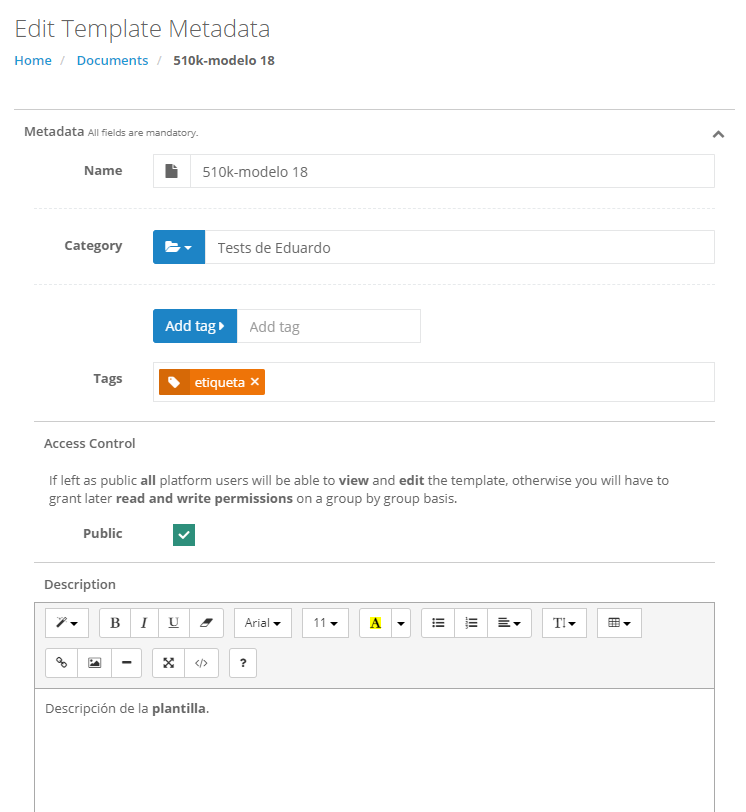 Updating the document template
There may be many reasons to change an existing document template:
Correcting errata
Adding new variables to the template
Modifying the document layout
etcetera
One may do so just by clicking on the Change Document Template located in the Actions tool box and uploading the new template:


Beware of the following:
Whenever the changes are only correction of errata or modifications in the document text or layout the change will be completely straightforward and there is not much more to it.
Whenever new variables are added or removed the Docxpresso package will do every possible effort to preserve all processed data from previous editions but one should take into consideration the following:

New variables will, of course, only have the default associated values so they should be edited to incorporate tips, helpers, validations, etcetera.
If a variable has been added or removed within a group (table or bookmarked content) it may be necessary to double check that the info about the display or clonability of the associated group has been correctly preserved (they will return to their default values that may or not be the adequate ones to the case in use).
Remember that if necessary you may always revert changes (see version management).